Succeessfully competed at:
Badminton CCI****
Burghley CCI ****
Bramham CCI ***
Windsor Castle **
Blair Castle ***
Blenham CCI ***
Gatcombe Advanced
Barbury Castle CIC ***
Chatsworth CIC ***
Gatcombe Park British Open
Won Hampton trophy 2007)
Luhmuhlen CCI **** (Germany)
Hartbury CIC***
Aachen CIC***
British Eventing Awards
Won The Martin Whitley Trophy 2008
Won The Jemima Johnson memorial Trophy 2008
Badminton CCI **** 2009
Won Glentrool Trophy
Burghley CCI **** 9th 2009
RA Bennett and partners Trophy Challenge Cup (Broadway Horse Trials 2013)
Branham International Horse Trials 2013 (The Bruce Ogilvie Veterinary Trophy)
Won the Wesh Championships 2014
Plus many more!
Breeds and produces her own quality horses.
Wanted rides for 2019 eventing season all levels considered.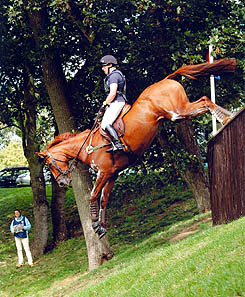 Rosie Thomas & Barry's Best at
Burghley International CCI ****